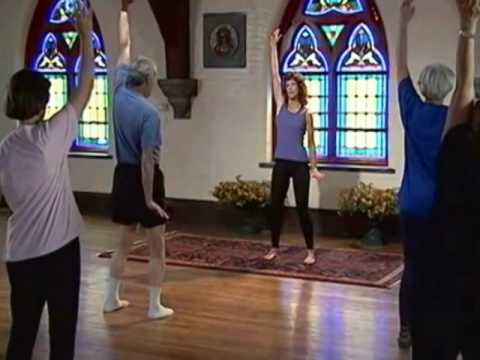 Description
FITNESS AND HEALTH FOR ACTIVE SENIORS. Endorsed by Doctors.
Physical activity is a key component for healthy aging. This program introduces fitness into the lives of older adults and seniors with a safe and easy-to-follow method.  Designed by a nurse for optimum safety and enjoyment. The participants move at their own pace, accompanied by soothing music, as they participate in the "More Than Stretch" class, which includes:
Stretching and strengthening
Improving balance and posture
Techniques for relaxation and breathing
Rebuilding and maintaining a healthy back
It's fitness for the whole body, inside and out – it spreads to the mind and spirit, permeating all aspects of their everyday lives, enabling them to do the things in life that they enjoy doing. The positive outcomes of the program are: improved health, functional independence, increased vitality and a general feeling of well-being.
With Charlotte Michos, R.N/MS.  She has thirty years of experience in the health field as a nurse, and a professor of nursing, and has an extensive background in fitness as a dancer and instructor, which includes additional training in: yoga, Pilates, Danskinetics, physical rehabilitation, movement therapy, relaxation techniques and preventative health. Charlotte specializes in working with older adults and seniors. 
Produced by Charlotte and Peter Michos. Directed by Penny Price.
"Recommended"— Booklist.

"After surgery on my shoulder and physical therapy, the "More Than Stretch" program helped me achieve my full range of motion, and restored my ability to get back to doing all the things I love to do." –  Lia Grasso, age 56.
"Finally, after 2 yrs of back pain, I started this program and it changed my life and I'm now back at my woodworking shop." — Dr. Joel Weinberg, age 71.
Item Name: MORE THAN STRETCH – DVD (Standard Def)
Item Number: A5